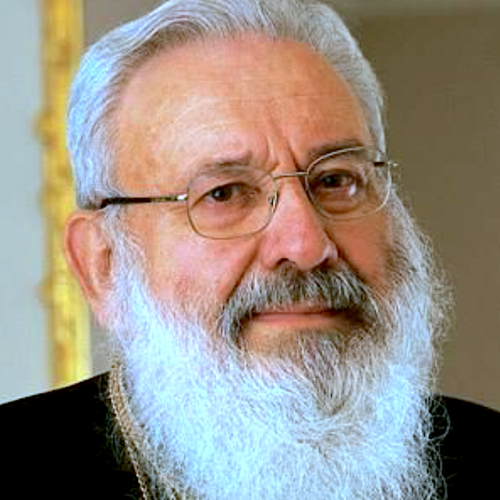 His Beatitude Luboymr Cardinal Husar
In December 2000, Pope John Paul II named Husar apostolic administrator of the Ukrainian Greek Major-Archeparchy of Lviv, and in January 2001 the Ukrainian Greek synod elected him Major Archbishop which was approved by the Pope the next day. On 21 February of that year Pope John Paul II made Husar Cardinal-Priest of Santa Sofia a Via Boccea. Cardinal Husar was one of the three Eastern Catholics to participate in the papal conclave, 2005, the others being Ignace Daoud of the Syriac Catholic Church and Varkey Vithayathil of the Syro-Malabar Church. (Nasrallah Boutros Sfeir and Stéphanos II Ghattas of the Maronite Church and Coptic Catholic Church respectively were both over 80 and therefore could not take part.) At that papal conclave, he was one of the cardinals considered papabile, something unusual for an Eastern Catholic. Also at that conclave, Cardinal Husar was the first Major-Archbishop from the Ukrainian Greek Catholic Church ever to participate in a papal conclave as cardinal-elector.
Husar was one of about a dozen like-minded European prelates who met annually from 1995 to 2006 in St. Gallen, Switzerland, to discuss reforms with respect to the appointment of bishops, collegiality, bishops' conferences, the primacy of the papacy and sexual morality; they differed among themselves, but shared the view that Cardinal Joseph Ratzinger was not the sort of candidate they hoped to see elected at the next conclave.
The major archiepiscopal see of Lviv was moved on 21 August 2005, to the city of Kyiv, the capital of Ukraine. He was acclaimed by his followers as Patriarch of Kyiv-Galicia, a title not recognized by the Holy See.
In October 2007, Husar received an honorary doctorate from the Catholic University of America in conjunction with the 100th anniversary of the first assigning of a bishop of the UGCC to the United States.
In February 2008, a celebratory liturgy was held in the Basilica of Santa Sophia in Rome on the occasion of the 75th birthday and 50th anniversary of priesthood of Cardinal Husar. The Head of the UGCC was greeted by Pope Benedict XVI, whose address was read by the secretary of Cardinal Leonardo Sandri, Monsignor Maurizio Malvestiti.
In 2008 Viktor Yushchenko signed a decree to decorate Cardinal Husar with the Order of Prince Yaroslav the Wise (the 3rd class). He was honoured with the highest state award "for his outstanding personal contribution in spiritual revival of the Ukrainian nation, longstanding church work, and to mark his 75th birthday".