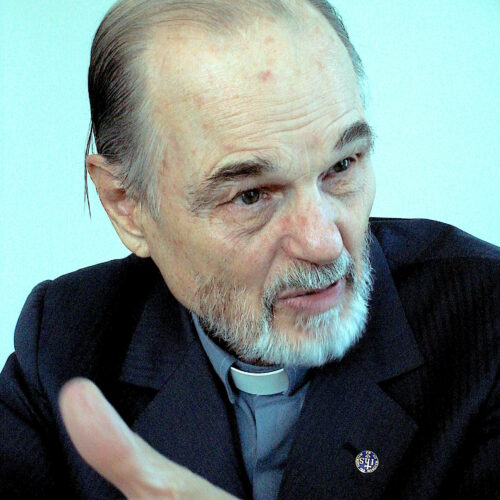 Fr. Robert Faricy
Fr. Robert Faricy, S.J. was an Emeritus Professor of Spirituality at the Pontifical Gregorian University in Rome where he taught graduate classes on mystical theology.
The subjects of Faricy's teaching and writing include theology, philosophy, general spirituality, comparative spirituality, ecotheology, contemplative prayer, spiritual discernment, and the writings of Thomas Aquinas, Thomas Merton, and Flannery O'Connor. He has also written extensively on Marian apparitions, especially at Medjugorje in Bosnia Herzegovina. He has written over thirty books, most of them originally in English and most translated into several languages, as well as several hundred articles in journals, magazines, encyclopedias, and dictionaries of theology and of spirituality.
Faricy has given talks and conducted spiritual retreats in Italy, the United States, Mexico, Ireland, and many other countries, speaking at conferences and conventions and in churches. He has been active in the Catholic Charismatic Renewal, acting as Spiritual Director of the Italian Charismatic Renewal for its first eleven years, and in the renewal of the religious life for Catholic priests, brothers, and sisters. He has been a program innovator and speaker for the Catholic cable television network EWTN and president of Southern California Renewal Communities (SCRC).