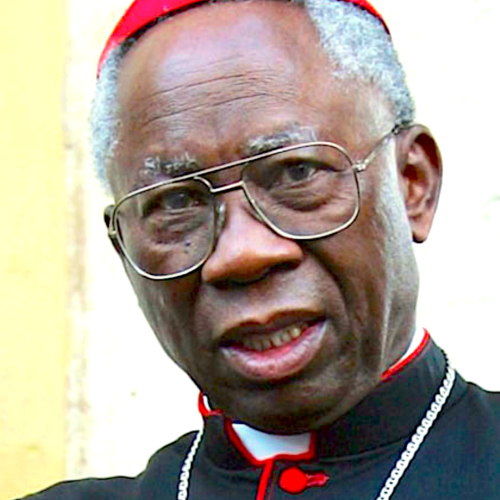 On 8 April 1985, Arinze resigned from his post in Onitsha, and the Pope named him a Cardinal-Deacon of San Giovanni della Pigna in the consistory held on 25 May 1985; he was raised to the rank of cardinal-priest in 1996. Two days following his elevation to cardinal deacon, Arinze was appointed President of the Pontifical Council for Interreligious Dialogue.
He served in various related capacities including the president of the Special Assembly for Africa of the Synod of Bishops. He also received honours in this capacity: On 24 October 1999 he received a gold medallion from the International Council of Christians and Jews for his outstanding achievements in inter-faith relations. He traveled extensively and became a popular speaker in the United States.
Arinze was a member of the Committee of the Great Jubilee of the Year 2000. In that capacity, he worked closely with individual bishops and priests throughout the world in preparation for the rare celebration of the Church. On 1 October 2002, Pope John Paul named him prefect of the Congregation for Divine Worship and the Discipline of the Sacraments.
When Pope John Paul II died on 2 April 2005, all major Vatican officials – including Arinze – automatically lost their positions. He was considered papabile, that is, a candidate for election to the papacy, at the papal conclave that followed, in which he was a cardinal elector.[6] He returned to his post as prefect of the Congregation for Divine Worship when confirmed by the newly elected Pope Benedict XVI on 21 April 2005, and on 25 April Benedict named him Cardinal Bishop of Velletri-Segni.
On 9 December 2008 Benedict accepted Arinze's resignation as prefect of the Congregation of Divine Worship.[7]
Arinze remains active and in 2009 gave the commencement address at the Augustine Institute in Denver.