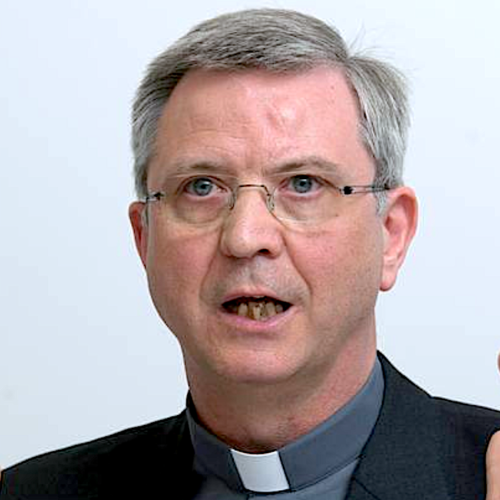 Fr. Johan Bonny
On 20 July 1980, he was ordained priest by Msgr. Emiel-Jozef De Smedt, then Bishop of Bruges. Bonny helped founding a l'Arche community in Moerkerke and remained attached to it as a priest.
He obtained a bachelors degree in philosophy in 1976 from the Katholieke Universiteit Leuven, a bachelors degree in theology in 1979 from the Grand Seminary in Bruges, and, in 1981, a licentiate in theology from the Pontifical Gregorian University in Rome. Msgr. De Smedt then appointed him archivist and professor at the Seminary in Bruges, where he taught Church History, Dogmatic theology, Ecumenism and spirituality. At the same time, he worked with the renowned expert in Christian mystics Albert de Blaere. In 1988, he obtained a doctoral degree in theology from the Gregorian University with a thesis on the Flemish mystic John of Ruysbroeck, entitled "Het ghemeyne leven in de werken van Jan van Ruusbroec" (English: The "common life" in the works of John of Ruysbroeck). In 1985 Msgr. Roger Vangheluwe appointed him director of the department of theology and, in 1991, spiritual director of the Bruges seminary.
Johan Bonny moved in 1997 to Rome with two new appointments. Firstly, on 5 June, he was appointed collaborator to the Pontifical Council for Promoting Christian Unity. Johan Bonny was responsible for ecumenical relations between the Catholic Church and the Orthodox churches, mainly in the Middle East. He took part in theological dialogue with the Oriental Orthodox Churches (including the Coptic, Syriac, Armenian and Malankara Orthodox Syrian Church) and the Assyrian Church of the East. He also kept the relationship between the council and a number of communities or movements, such as Taizé and L'Arche. Secondly, Cardinal Godfried Danneels and the Belgian bishops appointed him rector of the Belgian Pontifical College in Rome in succession to Msgr. Werner Quintens.
On 9 January 2002 he was appointed Chaplain of His Holiness by Pope John Paul II.